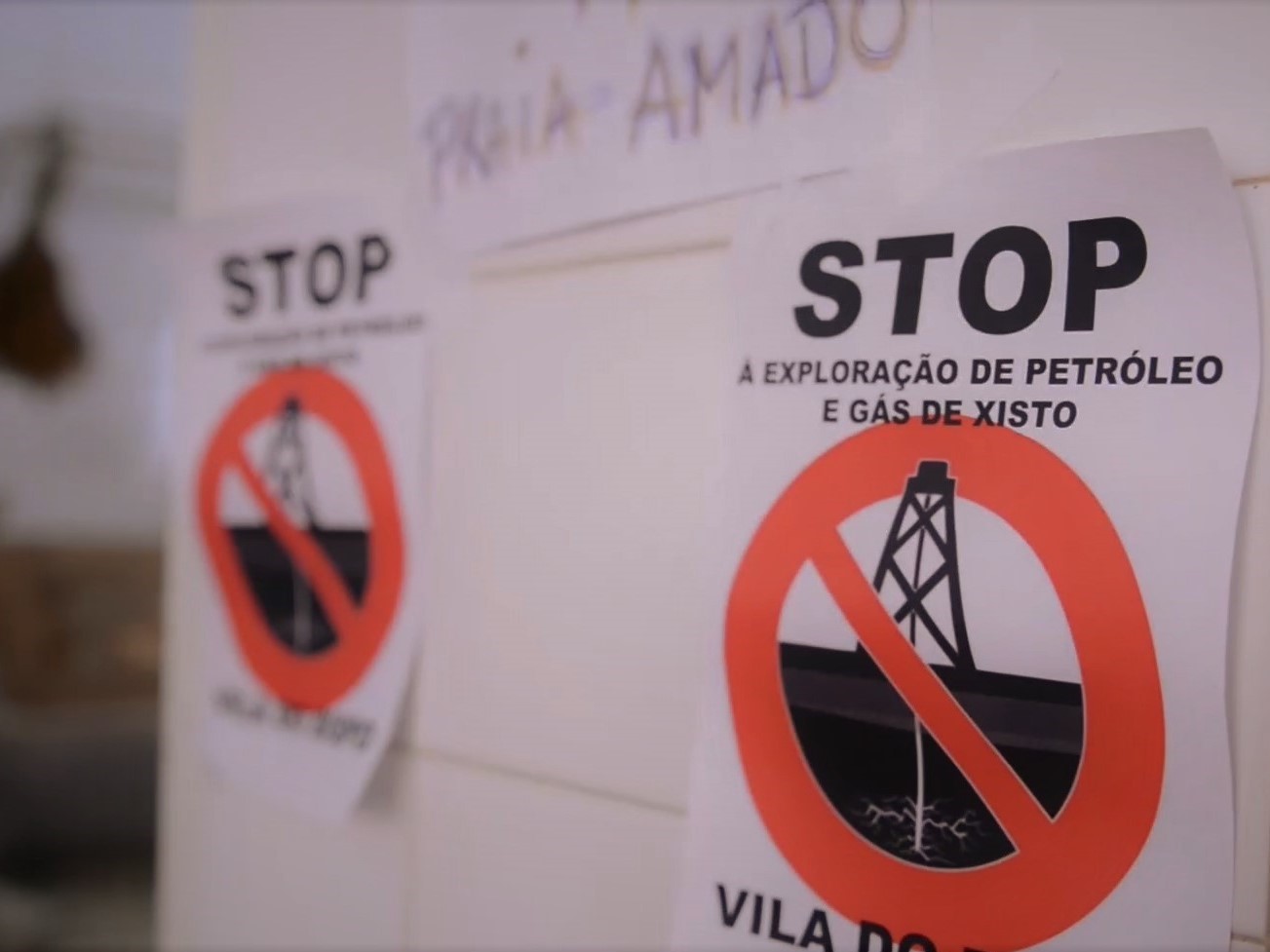 Fracking
the contract
(FURAR EL CONTRATO)
The documentary
Oil and gas companies are exploring the Algarve region of southern Portugal with permits in place to begin extraction. The local community is at odds with these plans. Fishermen, local mayors, home-owners, farmers, and the general tourism industry are vigorously lobbying against this proposed development. Fracking exploration is already creating a serious threat and can lead to an increase in earthquakes and water contamination.
The Algarve is a beautiful land, a "food forest" where oranges, figs, almonds, olives, and a bounty of nature's wealth offers locals a connection with nature many do not enjoy. The light, the history, the surf, the progressive culture all lend itself to romance and an earthy connection with the land.
Local government, industry whistleblowers, renewable energy experts, politicians, artists, filmmakers, farmers and activists have teamed up to push out oil development before it starts. This project is in partnership with the Loulé Film Commission.
The threat of environmental fall-out from fossil fuel development could badly hurt, and possibly destroy so much of the beauty that makes the Algarve great. In this film we will reveal the complexities of this issue directly though the voices of people at local rallies, public hearings and private interviews.
Sophie Rousmaniere has worked as a filmmaker and freelance journalist in the US, Canada, India, Indonesia, Malaysia, Japan, Mexico, Guatemala, Pakistan, Laos, Vietnam, Portugal, Spain and Thailand. She has produced, edited and directed over thirty documentaries, short films and music videos. Her work is largely social issue.
Jay Minton is a passionate Sound Designer, Composer, Art Director, Web Designer, Graphic Artist, Social Media Expert and Jack of all trades. He has worked as a production sound recordist in Europe, Africa, Asia and North America. He is a prop maker and art director creating specific pieces to fit the needs of each production. Jay is the COO of both Ironthorn Media and Issue Television.
Alison Week is a talented production coordinator and organizing teams and information is a valued asset she brings to Issue TV. Combining her previous experiences as a consultant, crowdfunding strategist and fundraiser. Alison also uses social media to develop, promote and distribute media online. She has worked at film festivals across the country, and has directed and produced a number of narrative and documentary films.
Sara Pereira has worked extensively with organizations in Portugal to work on outreach strategy and PR campaigns for issue based groups. She is graduated in Philosophy and cinema. She is coordinating with film clubs, organizations and Loulé Film Office to plan the tour.
Paulo Duarte is a multi-disciplinary filmmaker based in Faro, Portugal. He worked on short film projects in Portugal, mainly in the Algarve region and Coimbra. He produced, directed and worked in distinct areas such as sound direction and editing. To date, he has made and participated in ten short films.
3 October - TAVIRA - ALGARVE - CINE CLUBE DE TAVIRA
5 October - LAGOS - ALGARVE - BIBLIOTECA MUNICIPAL DE LAGOS
10 October - LAGOS - ALGARVE - BIBLIOTECA MUNICIPAL DE LAGOA
11 October - OLHÃO - ALGARVE - ASSOCIAÇÃO RECREATICA CULTURAL REPÚBLICA 14
12 October - ALJEZUR - ALGARVE - ASSOCIAÇÃO MOAGEM
15 October - VILA REAL DE SANTO ANTÓNIO - ALGARVE -BIBLIOTECA MUNICIPAL DE VILA REAL DE SANTO ANTÓNIO
16 October - FARO - ALGARVE - BIBLIOTECA MUNICIPAL DE FARO
17 October - COIMBRA - CENTER - CENTRO DE ESTUDOS CINEMATOGRÁFICOS
26 October - LISBON ALGÉS - CENTER - FÁBRICA DE ALTERNATIVAS
29 October - COIMBRA - CENTER - K CINE CLUBE
31 October - PENAFIEL - NORTH - BIBLIOTECA MUNICIPAL DE PENAFIEL
1 November - PORTO - NORTH - CCOP
4 November - VIZELA - NORTH - BIBLIOTECA MUNICIPAL FUNDAÇÃO JORGE ANTUNES
5 November - VILA REAL DE TRÁS OS MONTES - NORTH - SHORTKUTZ
6 November - OLIVEIRA DE FRADES - NORTH - BIBLIOTECA MUNICIPAL OLIVEIRA DE FRADES
7 November - VOUZELA - NORTH - BIBLIOTECA MUNICIPAL DE VOUZELA
8 November - FIGUEIRA DE CASTRO RODRIGO - NORTH - BIBLIOTECA MUNICIPAL FIGUEIRA DE CASTELO RODRIGO
9 November - BARREIRO - CENTER - ADAO - Associação Artes e Oficios
11 November - LISBOA - CENTER - ZONA FRANCA DOS ANJOS
22 November - SESIMBRA - CENTER - BIBLIOTECA MUNICIPAL DE SESIMBRA
23 November - LISBOA - CENTER - DISGRAÇA
18 January FARO ALGARVE TEATRO LETHES
The Judicial Police carried out searches for the National Entity for the Fuel Market and for the Directorate General of Energy and Geology because of the exploration licenses and exploration of oil off the Portuguese coast. Official source of the Ministry of Economy confirmed that the Directorate-General for Energy and Geology was the target of diligence, but refused to provide further clarification
Galp will abandon oil prospecting in Aljezur, company chief executive Carlos Gomes da Silva announced in a conference call with analysts following the release of third quarter results.
The Portfuel company of the Algarvean businessman Sousa Cintra will not be entitled to compensation for having seen the Portuguese State unilaterally terminate the onshore oil prospecting and exploration contracts in the Algarve.
"According to information published by the media on October 29, 2018," Galp and Eni made the decision to abandon the exploration project in the Alentejo basin. " However, such a decision appears not to be effectively confirmed '; warns the PALP.
The Parliament wants the Government to "make every effort to cancel exploration contracts for hydrocarbons in the Lusitanian Basin in Alcobaça and Pombal with the Australian company Australis, Oil & Gas." The resolution, adopted in the plenary session of the end of last year, was published this Tuesday, January 8, in Diário da República.
Mission
Issue TV is a non-profit media company that creates educational programming and media development projects for social and environmental justice. In short, we give voice to causes that need attention.
Main Objectives
We provide media support to grassroots and other non-profit groups.

We work with international film makers and budding community media groups to bring voice to their issues and an audience to their films.

Projects focus on women's issues, environmental concerns, human rights and public health.
Media Education
Issue TV has been working with international media makers to help them hone their skills, and develop their craft. We teach workshops in digital media production and have internship opportunities at our office in Austin, Texas.
We also believe that by bringing media makers and activists together we can help get important stories told to a broader audience.
Take Action
There are several ways you can take action and make a difference in the lives of those fighting for recognition and social justice:
Volunteer
Gain experience working with a 501c3 involved with social justice and media.

Donate
As a 501c3 non-profit organization, your donations are tax deductible.

Subscribe to Issue TV
Receive regular email updates about what's going on with Issue TV.